Koh, Chang-Su
Koh, Chang-Su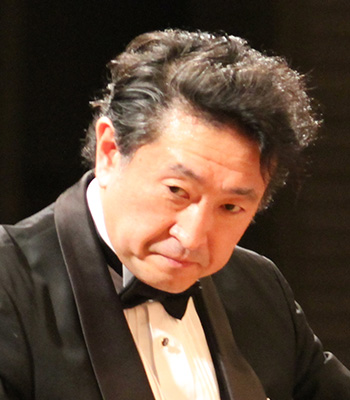 Chang Su Koh was born in Osaka in 1970. After graduating Osaka College of Music with a degree in composition, he entered the Musik Akademie der Stadt Basel. Koh has studied composition with Kunihiko Tanaka and Rudolf Kelterborn, and conducting with Jost Meyer to date. He received the 2nd prize from the 5th Suita Music Contest composition section and earned honorable mentions from the 13th Nagoya City Cultural Promotion Contest and the 1st Zoltan Kodaly Memorial International Composers Competition.
He was also awarded the 12th Asahi Composition prize ("Lament" was a 2002 AJBC test piece) and received the "Master Yves Leleu" prize from the 1st Comines-Warneton International Composition Contest. Presently, he teaches at Osaka College of Music and ESA Conservatory of Music and Wind Instrument Repair Academy, and is also a member of Kansai Modern Music Association. He composes and arranges orchestral, wind and chamber music with commissions from various bands. He also directs amateur orchestras and city bands.
Band Works
Mindscape for Wind Orchestra
It begins with a haunting percussion adagio "fantasy" then abruptly shifts to extended complex rhythmical structures for the full ensemble. The A/B/A structure of this work underscores how the reciprocal faces of one's personality are inseparable, like two sides of coin.
Home, Sweet Home Variations for Wind Orchestra
This is a variation piece based on the well-known song "Home Sweet Home". It consists of an introduction, theme, five variations, and a coda. Each variation has a friendly character and, at the same time, requires technical skill from all parts.
Arirang and Akatonbo
A creative and moving fantasia on folksongs from Korea and Japan. Significant is the use of traditional Korean folk rhythms.
Chamber Music
Divertimento Based on Chatsumi - Woodwind Quintet
Being "cheerful and familiar", this delightful and challenging divertimento will be a nice test for amateurs or a suitable encore for professtional performances.
Brass Octet
The staid and imposing introduction and Allegro develops into a lyrical and beautiful melodic interchange entertwined with demanding fanfare fragments which ultimately dominate this challenging work's conclusion.