Ito, Yasuhide
Ito, Yasuhide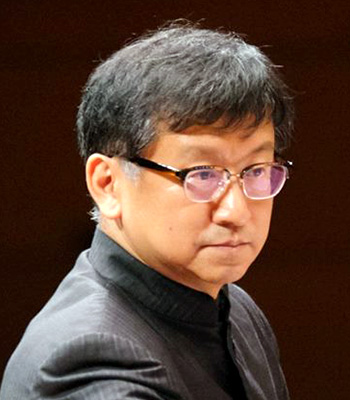 Yasuhide Ito (b. 1960), professor at Senzoku Gakuen College of Music, has earned international acclaim for his compositional endeavors. His more than 1000 works include 90-plus wind band scores. Gloriosa (1990 Ongaku No Tomo Sha; Bravo Music, international distributor) is one of the most frequently performed masterworks in the world, having the distinction of appearing in a standard Japanese high school music textbook. His Festal Scenes (TRN) saw its US premiere with Ito himself conducting, marking his first international appearance at the 1987 ABA-JBA joint convention.

Ito's compositional talent covers a variety of musical media. His piano ensemble series, Guru-guru Piano (Ongaku No Tomo Sha, 8 volumes) expands the scope of four-handed performance. His 2001 opera Mr. Cinderella received much critical acclaim and greatly impacted the Japanese opera scene. By request from his hometown of Hamamatsu, he composed music for the official city song rededicated in 2007. In honor of those affected by the tragic East Japan Earthquake, Ito collaborated with famous poet Ryoichi Wago, offering songs of gifts and prayer. His kindness and generosity through music has touched many lives. .

Ito's distinguished musical career includes guest conducting the Tokyo Kosei Wind Orchestra for their 'Asian Concert Tour 2002' on behalf of maestro Frederick Fennell, and the International Youth Wind Orchestra at WASBE 2005 in Singapore. He is in high demand as a guest conductor, clinician, lecturer, and educator in Asian countries such as Taiwan, Hong Kong, Korea and Singapore, and gives clinics for WASBE and other band festivals worldwide. .

Ito was born in Hamamatsu, Shizuoka Prefecture, Japan in 1960. His musical career began with childhood piano lessons and later compositional studies while in high school. He graduated from the Tokyo University of Fine Arts and Music with a bachelor of music degree in composition. .

Ito's musical talent has been recognized through awards at the Shizuoka Music Competition (piano, first prize, 1980), Japan Music Competition (composition, third prize, 1982), the Competition for Saxophone Music (1987) and the Bandmasters Academic Society of Japan (the Academy Prize, 1994; Research Branch Prize, 2012).
Band Works
Gloriosa [Complete]
A new acquisition by Bravo Music, this fresh edition of the 1990 masterwork by Yasuhide Ito features a newly engraved score, improved parts, good availability and value. This stirring and powerful homage to early Christianity in Japan profoundly and eloquently states the case of cross-cultural conflict and resolution.
Peace, Peace, so Sing the Birds
Sentimentale is an excerpt from Yagisawa's Trumpet Concerto. This is a chorale etude for both concert and daily training.
Diferencias on an Old Spanish Song
Western music has been my musical roots since childhood, and throughout my career as a composer, it has continued to fascinate me. One could say that this has provided the inspiration for Diferencias on an Old Spanish Song, my own take on the diferencias form.
Chamber Music
Carmen Fantasy - Saxophone Quartet
Beloved themes from Carmen are expertly arranged into a thrilling, and challenging five minute exposition performable by an advanced high school quartet.
Solo Works
March
Only Once! March
A frantic gallop written as a one-off encore became this standard closer for the Senzoku Gakuen College of Music Freshmen W.E.